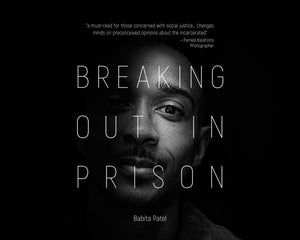 Breaking Out in Prison
Regular price $26.00 Sale
"My grandfather went to Sing Sing. My father, my uncle, my brother went to Sing Sing. I went to Sing Sing." 

Poor schools. Violent neighborhoods. Easy drugs.  No jobs. No support. No options. In the disadvantaged communities of urban America, the cradle-to-prison pipeline locks young men out of opportunity long before it locks them up.
Meet 15 men doing something about it—15 men who got an education inside Sing Sing Correctional Facility, and used it to break out of the cycle. Today, they are role models for young men in their communities. And they are here to put a human face on effective solutions to ending the epidemic of mass incarceration in America today.
By: Babita Patel
PRAISE FOR THIS TITLE
"A must-read for those concerned with social justice… changes minds on preconceived opinions about the incarcerated"

— Pamela Belafonte

"Beautifully and poignantly captures [these men] as more than the crime or the time they did, and illuminates the complexity of what brought [these men] to prison, and the many ways in which they are assets to our community"

— Dr. Geraldine Downey, Director, Center for Justice,
Columbia University
Details:
ISBN: 9781912157082
Formats: Paperback, digital book
Extent: 128 pages
Keywords: Photography, criminology, social issues, criminal justice reform, race relations