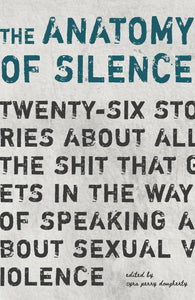 The Anatomy of Silence
Regular price $17.00 Sale
Before #MeToo, there was silence.
Let's talk about that silence.
The Anatomy of Silence is a collection of voices speaking out loud - often for the first time - about what it means to stay silent, to be silenced, and to break the silence that surrounds sexual violence. About how we are all complicit in creating that silence. It offers an unflinching account of how a culture of shame perpetuates a culture of violence against our bodies—and reflects on what it would take to create a world in which that silence, once broken, stays broken.
"A powerful, painful and brilliant collection of stories, the perfect reminder of why we need change and why we need it now."

- Rebecca Reid, Journalist and Author, Perfect Liars

"Raw... profoundly introspective... These deeply personal stories will make any empathetic person cry, rage, grieve, and sit in awe. 

"A book that turns whispers into roars, The Anatomy of Silence isn't just an amplifier, but asks serious questions of where society fails victims of sexual abuse on every level, leaving the question –
what part are you playing?"
Details:
Formats: Paperback, digital
Extent: 224pp
Keywords: Anthology, feminism, sexual harassment, sexual abuse, gender relations, toxic masculinity
Further details about our editor and contributors