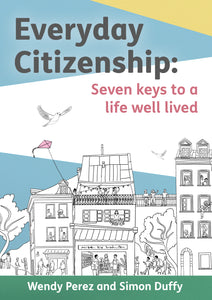 Everyday Citizenship: Seven keys to a life well lived
Regular price $17.00 Sale
We are all equal. We are all different. We are all citizens.
Being a citizen means making your own choices about how to live life to the fullest.
This book helps you ask the right questions so you can find the answers that are right for your life. It shows you the path to finding meaning, making a home, managing your money, and filling your life with love, support and freedom.
Once you hold the keys to your life in your hands, you can make bold choices and follow your dreams. No dream is too small or too big. See what you can achieve, and don't ever stop!



By Wendy Perez and Simon Duffy

Featuring illustrations by Ester Ortega
Edited by Clare Tarling
Details:

Formats: Paperback available for preorder (Ebook and Audioboook forthcoming January 2024)
Extent: 104pp
Keywords: Citizenship, learning disability, inclusion, participation, community development