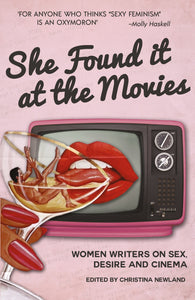 She Found it at the Movies
Regular price $17.00 Sale
Because Timothee Chalamet's eyes gleam with the light of a thousand suns. Because you'd let Zoë Kravitz get away with putting gum in your hair. And because there really should be a national monument dedicated to Gene Kelly's ass.
From the tongue-in-cheek to the righteously enraged, She Found it at the Movies explores women's secret desires, teen crushes, and one-sided movie star love affairs, flipping the switch on a century of cinema's male-gaze domination. With misogyny and sexism still taking centre stage in the real world -- what can women's relationships with movies tell us about the wider landscape of sexuality, politics and culture? 
Featuring writers you know and love from BuzzFeed, The Guardian, Vulture and more, these essays pose thoughtful questions about the politics of desire. Like a guilt-free chat with your smartest girlfriends, this book is a positive celebration of female sexuality at its thirstiest.
Edited by Christina Newland and featuring original essays by: Sarah Elizabeth Adler, Corrina Antrobus, Anne Rodeman, Lauren Vevers, Caroline Golum, Izzy Alcott, Pamela Hutchinson, Eloise Ross, Jessica Kiang, Sophie Monks Kaufman, Willow Maclay, Raechel Anne Jolie, So Mayer, Amy Blakemore, Violet Lucca, Anna Bogutskaya, Simran Hans, Megan Christopher, Catherine Bray and Sheila O'Malley. Yep, you heard that right.